Do you know that presenters who deliver their message with more Passion, Energy, Confidence, and have Fun with their audience are more successful?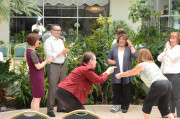 The tools of Improv will enhance every aspect of your communication both at work and at home. Improv is not about comedy. It's about being in the moment, adapting, collaborating, and having FUN learning and bringing that fun into your life and becoming fearless.
Half Day, Full Day, Two Day – Week Workshop, Custom Workshops
Improv for Storytelling
For Speakers, Presenters, Coaches
Why are stories important? The journey you take your characters on let the audience experience the pain, obstacles, lessons, and ultimately the successes of your character. Your story can demonstrate how you are the solution, how you can solve their problems.
You will learn
how the different stories you need to tell

how to bring your characters to life to engage your audience and bring them into your story

the storytelling formula that's best for your purpose

how to tell compelling stories that attract and make the audience care about you and your characters

how to get comfortable on stage telling your story

how to influence, impact, and inspire your audience

how to tell your brand/ signature story

and more
IMPROV YOUR COMMUNICTION:
ELIMINATE THE BORING AND CREATE THE SIZZLE
In this interactive experiential workshop you will learn and experience more confidence, personal power, improved relationships, collaboration, and better company engagement
You will learn
how to create a culture of collaboration and "yes and"

how to get over the fear of speaking

how to be comfortable on stage

how to think and be in the moment

team building and leadership

how to create a sales presentation without being salesy

how to unleash your creativity

how your nonverbal communication impacts your audience

how to think, act, and make decisions quickly

and more